FAQ
What size is right for me?
Insolia® All Day Heels Inserts are sold in 4 sizes. Please use this table to determine the best choice for you. There is a little leeway in sizing.

Insolia All Day Heels Inserts Size Table with International Conversions
How do I insert Insolia All Day Heels into my high heels?
Insolia All Day Heels come with comprehensive instructions however you can also view them here
Insolia Instructions

Check out the video here to see Insolia Inserts being placed into a shoe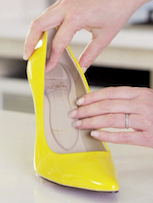 Where are Insolia All Day Heels Inserts placed in the shoe?
Insolia All Day Heels Inserts actually go in the back of your shoe. That's because they lift from the front of the heel as opposed to just cushioning the ball of the foot. This is typically what they look like when in your high heels, however some poeple may find they need to adjust a few milimetres or angle them slightly for the best result.
How much are Insolia All Day Heels Inserts?
$14.95 including GST plus postage and handling for a single pair in stores (you can see a list of our stockists here). From our website we sell them in multiple packs. However we often have specials so make sure you check the stockists and website regularly to see if we are currently offering any specials deal.We also are consistently cheaper than ebayers (who often also sell old stock and do not offer a money back guarantee)
How much is postage and handling?
Shipping and postage is usually free! If there is a cost postage and handling is based on purchase price and is always shown prior to purchase so you'll never get a nasty surprise. We can post express provided the item you want is currently in stock. Note we do not build the cost of postage and handling into our product like many online stores do.
Can I buy Insolia All Day Heels Inserts in stores?
We currently are stocked in some boutique stores and we highly recommend you try them - even if it's just because you love fabulous shoes! You can see our stockists here.

Ideally we'd love for you to be able to walk into any of your favourite stores and pick up a pair of Insolia without having to pay postage so ask your local retailers and you may find they will happily oblige.

The more times they are asked to stock a product the more likely they will be to stock it so we're asking our loyal customers to help us get into the bigger storesas well - this would mean you'd be able to buys Insolia much more easily PLUS you wouldn't have to pay postage! You can copy and paste this email and send it to the big stores from the list below:

I'm writing to ask you to please stock Insolia inserts from All Day Heels. They're a new type of high heel insert unlike anything I've tried before and I currently have to purchase them online. Their website is www.alldayheels.com.au

You can contact Target here

You can contact Big W here

You can contact Myer here

You can contact Zu Shoes here

You can contact Novo shoes here
I've found some Insolia on Ebay/ online elsewhere?
There are several ebay sellers and other online stores that sell Insolia however unless they state that they are an authorised reseller they are not authorised to resell. In fact we have found that the unauthorised ebay sellers are often more expensive than us anyway. The other problem is they are often selling old stock they have bought cheaply (we are constantly improving our product) and do not offer a money back guarantee. As long as you purchase directly from us or from one of our authorised resellers you are protected by our no questions asked money back guarantee. If you buy from an Ebay seller you will likely find they do not offer returns even for a faulty product
How long will they take to ship?
If the product is in stock we will process your order within 2 business days of receiving it (and usually sooner!), not including weekends and public holidays. Allow 3 - 10 working days , depending on where you live. We are currently exploring other alternatives as well to give you more options.
Are Insolia All Day Heels Inserts recommended by podiatrists?
It's important to note that Insolia All Day Heels high heels inserts are not a therapeutic product and that high heels - even with Insolia in them - are typically not recommended by podiatrists. However many podiatrists are aware that women will wear high heels regardless of what they are told and so they will often recommend Insolia inserts as a way to minimise the negative effects of high heels. They are considered by many podiatrists to be not only the best inserts for high heels but the only ones that really impact on the entire body. In fact Insolia Inserts have been Awarded the American Podiatric Medical Association's Seal of Acceptance!
Can I move them from one shoe to another?
Insolia Inserts have an adhesive backing that means they are not meant to be moved from shoe to shoe. This adhesive backing prevent Insolia from slipping in your shoe.
I'm having trouble peeling off the backing strip - any hints?
We've imporved our product! There is now a tab on them to ensure easy peel off. If you have older product and if you have problems peeling off the backing strip flick your thumb back and forth over the edge several times. This warms up the adhesive and makes it easier to peel back the backing strip.
Where are Insolia All Day Heels Inserts made?
Insolia Inserts are made in the USA employing the highest level of quality control and manufacturing.
Can I stick Insolia Inserts back on if they come off?
The adhesive backing is designed to be non-damaging to your shoes and therefore may come off in high heat or if not stuck onto a clean surface. We have heard of some women sticking Insolia Inserts back onto their shoe with glue or double sided tape. This is not a problem you position them in the correct place however understand that other adhesives may cause damage to your shoes, especially if you try and remove them at a later date.
What shoes will Insolia All Day Heels Inserts work in?
Insolia Inserts are suitable for ANY type of high heels, from strappy sandals to boots and everything in between. They are very discreet and virtually undetectable in every high heel style.
What do they feel like?
The feeling of Insolia Inserts will vary from person to person and shoe to shoe. Some women say they feel a slight bump under the arch of their foot that is lifting them, some describe a feeling of being pulled back onto their heel and some women even go as far as to say their heels feel like flats. In most cases you won't notice them after getting used to them and you'll just feel like you are wearing a lower heel than you actually are. These are all normal responses. What is most important is that they do not feel painful or uncomfortable. If you experience pain or discomfort you may have not installed them correctly or they may be positioned incorrectly. That is why we recommend only exposing some of the advise when first putting them in your shoes so you can move them around until they feel comfortable.
What if I have an injury?
Insolia Inserts are not a therapeutic product and are not meant to cure or alleviate any medical condition. If you have any concerns your should consult your healthcare professional as to the suitability of Insolia Inserts.
What if I have different sized feet?
If you have different sized feet - i.e. one foot is a size 7 1/2 and the other is size 8 1/2, you may find that you need size S with the smaller foot and a size M with the larger. The good news is that because Insolia Inserts fit in the back of the shoe, there is no left and right, so by buying two pair of Insolia Inserts in different sizes you can fit two pairs of shoes.
I am having difficulty placing Insolia Inserts in my boots.
Proper placement in boots is more difficult, especially if your boots do not have a zipper or other mechanism to open them up so you can easily place and adjust your Insolia Inserts. We recommend that you do not select boots for your first Insolia Inserts experience. We suggest you first try Insolia Inserts in easy to access high heels to get a feel for correct placement. This will help you in installing Insolia Inserts in boots.
What shoes work best with Insolia All Day Heels Inserts?
Insolia Inserts work best in high heels that are at least 40 mm (1 1/2 inches) high. The benefit of Insolia Inserts is most apparent in high heels that are uncomfortable after a few minutes wear. With this type of high heel the benefit of Insolia Inserts can be noticed almost immediately. If you put Insolia Inserts in shoes that are already comfortable, the benefit of Insolia Inserts will be noticed over the course of the day - that is, you will be able to wear your high heels longer before they begin to hurt (typically four times as long!).
Are Insolia Inserts affected by what stockings I wear?
Insolia Inserts are not affected by the presence or absence of socks, stockings, panty hose, etc.
I use a lotion on my feet, is this a problem for Insolia Inserts?
Shoes absorb lotions and creams used on feet. When this happens, it can be difficult to get the Insolia Inserts to stay in your high heels because the lotion absorbed into the insole stops the Insolia Inserts adhesive from sticking. You may be able to solve this problem by cleaning the inside of the shoe with a leather or vinyl cleaner to remove any lotion or cream that has been absorbed into the insole. Make sure to allow adequate time (overnight) for the insole to dry out prior to applying the Insolia Insert. The best solution is to use Insolia Inserts in shoes that have not been in contact with lotions or creams.
Do you offer a Money Back guarantee?
Yes, we offer a full money back guarantee! Just return your Insolia Inserts to us, together with a printed copy of your email receipt, within 30 days of shipment, and we will refund the full purchase price, as a refund to the credit card used to make the purchase.
Insolia All Day Heels Inserts don't seem to work for me?
Remember, Insolia Inserts are not a cushioning product so do not expect a soft, cushiony feel. You may also find that after wearing them for a period of time you notice the difference as opposed to instantly. Many women find that while they don't notice the difference straight away, after wearing heels with Insolia they notice the difference at the end of the day when they discover that they don't have the usual pain and discomfort. Compare how your feet would normally feel at the end of a day on your feet and see if you notice the difference.
If you still feel they do not work make sure you have positioned them correctly and have the correct size. These subtle changes can make a big difference. We offer 4 sizes that cover the range of Australian Woman size 4 to size 12 or Euro 34 to 42.
However because of the variability of the human foot, and preexisting medical conditions, the 4 sizes we offer will not work for everyone. We've found that Insolia Inserts will make a noticeable difference for most women. The differences between feet are a reason the benefit you feel with Insolia Inserts can vary from person to person, from a dramatic improvement to a subtle change. In particular if you have very high arches you may find the effect more subtle.
Because there is a small percentage of women who do not find them effective we do offer a 30 day money back guarantee.
I clean my shoes from time to time using specific cleaners for the material of the shoe. Are there any cleaners which are or are not recommended?
Insolia Inserts may be cleaned with a damp wash cloth, or an old toothbrush, and little mild detergent. Do not remove Insolia Inserts from your shoes to clean them as this will weaken the adhesive holding them in place. Do not use solvents to clean your Insolia All Day Heels Inserts!
Are Insolia All Day Heels Inserts hypoallergenic?
Insolia Inserts are made from a polyurethane plastic that is latex free.
Are Insolia All Day Heels Inserts poisonous? My dog has been chewing on them.
Insolia Inserts are not poisonous. The inserts are made from a polyurethane plastic. Consult your vet (or doctor) if you are still concerned.
What is "Natural Elements"?
"Natural Elements" is a unique antibacterial technology that has been found to prevent the bacterial growth that can cause odors. Tested under AATCC Methods 100 & 147. "Natural Elements" is a trademark of Etcetera LLC.